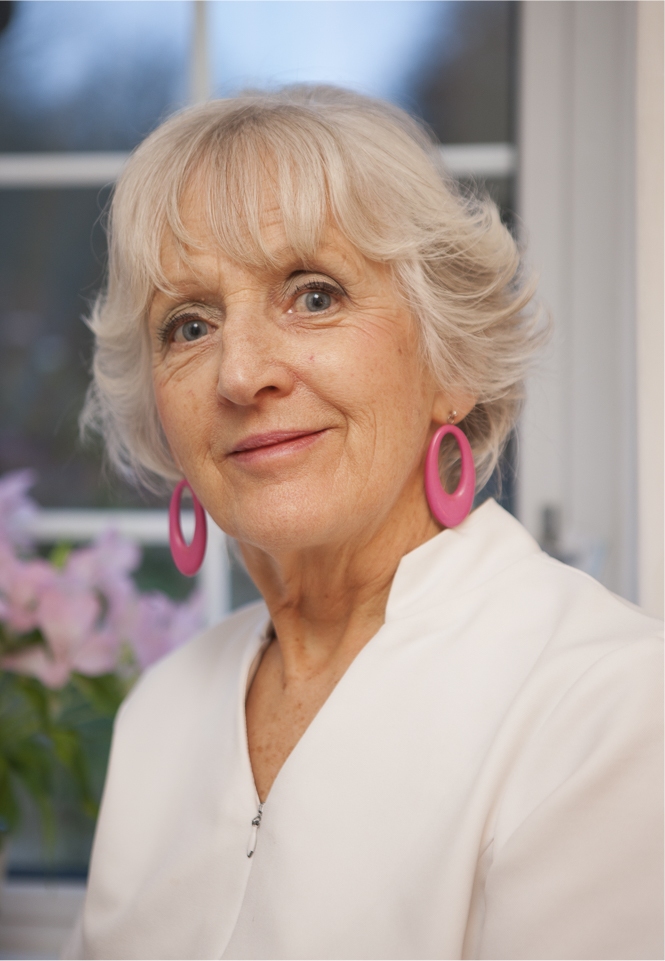 Since a child Wendy has always been drawn to making people, animals and plants better, from feeding orphaned lambs to easing migraine headaches to bringing out the best in plants and flowers. This quiet passion found its full expression in reflexology and subsequent modalities. It is a joy to see people, who arrived looking bowed down by symptoms and life in general, leaving looking uplifted, more energised, more connected to life.
Wendy qualified as a reflexologist 25 years ago on the18th March, followed by qualifying as an allergy therapist 18 months later. Wendy has attended diploma courses to learn about how and why people become ill – it doesn't happen over night; how to support people through their journey with cancer with methods tried and tested at the Penny Brohn Centre and attending on-going courses and seminars on using vitamins and mineral supplements when so many folks' diets are nutrient poor but have a lifestyle that demands high levels of nutrients. The most recent training has been with Yehuda Tagar on Psychophonetics counselling – and interesting exploration into one's inner life leading to the client deciding their own solution using imagination, inspiration and visualisation.
Over the years her work has developed into a more multidimensional approach as befits the complexity of the human condition. The benefits of reflexology continue to be revealed to new clients and old alike. Testing for food and chemical sensitivities and then customising any treatment that may be required has been life changing for some clients.
The Sanctuary Broadwell has been renamed Health Resolutions after a move to the other side of the village. The clinic continues to develop an atmosphere of calm, meaningful support for whatever condition clients may have. Please visit www.healthresolutions.co.uk to see further developments in Wendy's practice and also read the blogs that are published every now and then. Wendy has recently launched another blog celebrating all that is beautiful in life – https://chroniclesofbeauty.blog.
WHY I'M GOOD AT WHAT I DO…
I have been a Reflexologist for 23 years and helping people with their Allergies for 22 years.
Originally I was a Biology Teacher at a Comprehensive school near Watford. Since then I have brought up a family in Hong Kong, Portland Bill Weymouth, Bandar Abbas in Southern Iran, Singapore and now the Forest of Dean where we have been living for 35years. Along the way I have studied Chinese brush painting, a City and Guilds amateur Gardening 3 year course, designed some gardens, two designs of which won first and second place in a competition run by HTV and Bridgwater College.
I started Reflexology because I had noticed for some time that many people I met or just observed were not well. The either felt unwell, but nothing really came together for the Doctor to say definitely what was wrong or all health markers were normal but…. There were others who had had medical treatment so nothing more was available to them but they were still in pain or hadn't felt well since then. Reflexology is a gentle treatment, effective, pleasant to give and receive. The Allergy work developed on from that and as time went on I attended courses on Natural Nutrition, Nutriceuticals, Health Creation, Touch for Health, more advanced reflexology and a diploma in Psychophonetics Counselling.
As well as my professional training and experience, the wide variety of life experiences and challenges I have been through has deepened my understanding of human nature and enables me to bring a level of empathy to my clients that may not otherwise have been available to me. The client can be assured that they will be heard without judgement. I always reassure each person that I will do my best to help them, using the variety of skills at my disposal.
TESTIMONIALS
TONI STANTON – TLS SPORTS MASSAGE AND REMEDIAL THERAPY – Cinderford
Wendy is a wonderful and inspiring lady with an incredible talent for making you feel at ease and all is going to be ok in the world. Her touch and ability to find the problem area and easing it is amazing including quieting down the incessant humming bird that sits in my head that is tinnitus.
ANDREW LONG – CASS STEPHENS INSURANCES LTD – Gloucester
Wendy provided great advice to me recently when I had just lost my Dad following a long illness. Offering reassurance and encouragement at just the right time, with a great deal of empathy was just what I needed. I am now recommending that my step-mother uses Health Resolutions to help her relax.
JOHN TAYLOR – TRUE POTENTIAL WEALTH MANAGEMENT – Hereford
Having met Wendy @ 4N I booked my wife in for a reflexology session. She was relaxed, and with Wendy's skills, told me that her feet felt better and lighter than they had for years. I can thoroughly recommend Wendy. She is also a very, very lovely lady.
WHAT I DO
• Reflexology
• Allergy testing and treatment
• Counselling
• Touch for Health
• Nutritional advice
To Book An Appointment At Health Resolutions:
Tel : 01594 832430
Mob: 07733 221941
Tues: 10am ~ 1:00pm
Thurs & Fri: 10am ~ 8pm
Social Media